London Tube Fares
Updated: July 2022
This is a London tube prices for travel in 2022. Depending on day time and distance, fares are higher or lower.
Day time:
Fares depend on "peak" hours or off-peak hours, in a rush hour journeys have a more expensive cost. Peak hours are Monday to Friday, between 6:30 am to 9:30 am and between 4:00 pm to 7:00 pm, except on public holidays.
Ticket type:
The simple ticket or cash ticket costs £6.30 off-peak fare and £9.30 at peak time.
With a prepaid or contactless card, we give an example: In zone 1 with an Oyster card a ticket costs 2.5 times less than a single ticket. It's worth learning more about this money-saving ticket, see below for more information.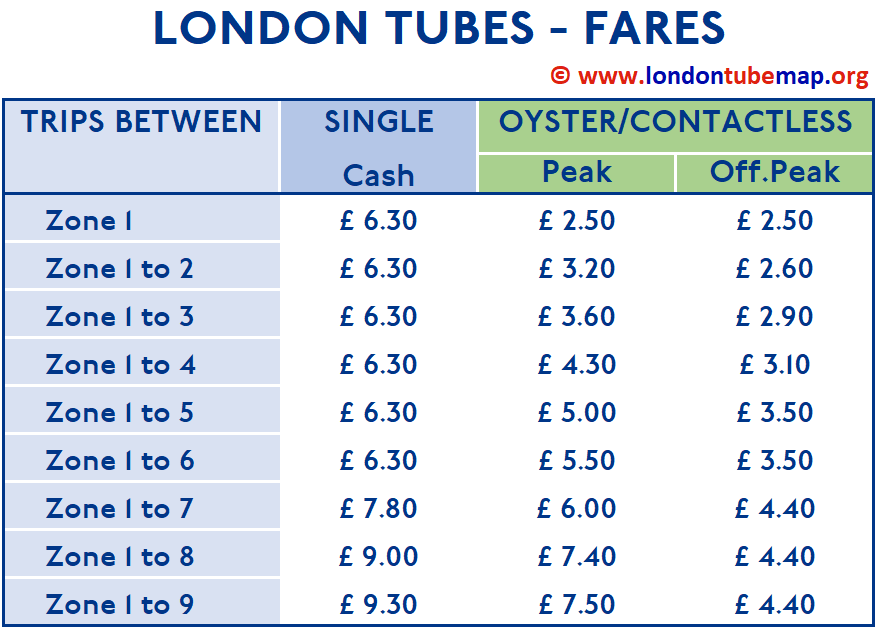 When you are in front of the machine, first you must choose the zones you will be travelling in the next few days. If you are a Tourist, usually carry between zones 1-2. Our suggestion is to select this option because it is where most of the historical or famous places are in London.
Another tip is to top up money for 3 days, for example for a family with two kids: £20 for adults and £10 for Kids under 15.
There are benefits to kids under 15, they will pay 50% off adult fares and kids under 5 are free. To access this benefit you ask for help in the station, TFL´s people help you with this issue.
It is compulsory to pass your card/ticket/ticket through the reader, both when entering and leaving the metro platforms.
Cards
It is best to use a card, as they have significant discounts on fares. The Oyster Card and TravelCard are prepaid cards, they cost the same (£5) and you preload the balance you want to spend.

The same card can be used on the tube, trains, buses and trams. Another advantage is that they have a daily cumulative spending cap and when the cap is reached, subsequent journeys that day are free (with Oyster the cap is £7.70 and with TravelCard £14.40).

For example, if you use Oyster many times a day and you have spent £7.70, then the rest of the day's journeys are free.

Tip: if you have money left over on the card at the end of your trip, you can apply for a refund (not the £5 on the card, but that card can be used on future trips to London). To claim the refund (maximum £10) go to the touch-screen vending machines at tube stations, use your Visitor Oyster Card through the yellow card reader and select an option called 'Oyster refund'.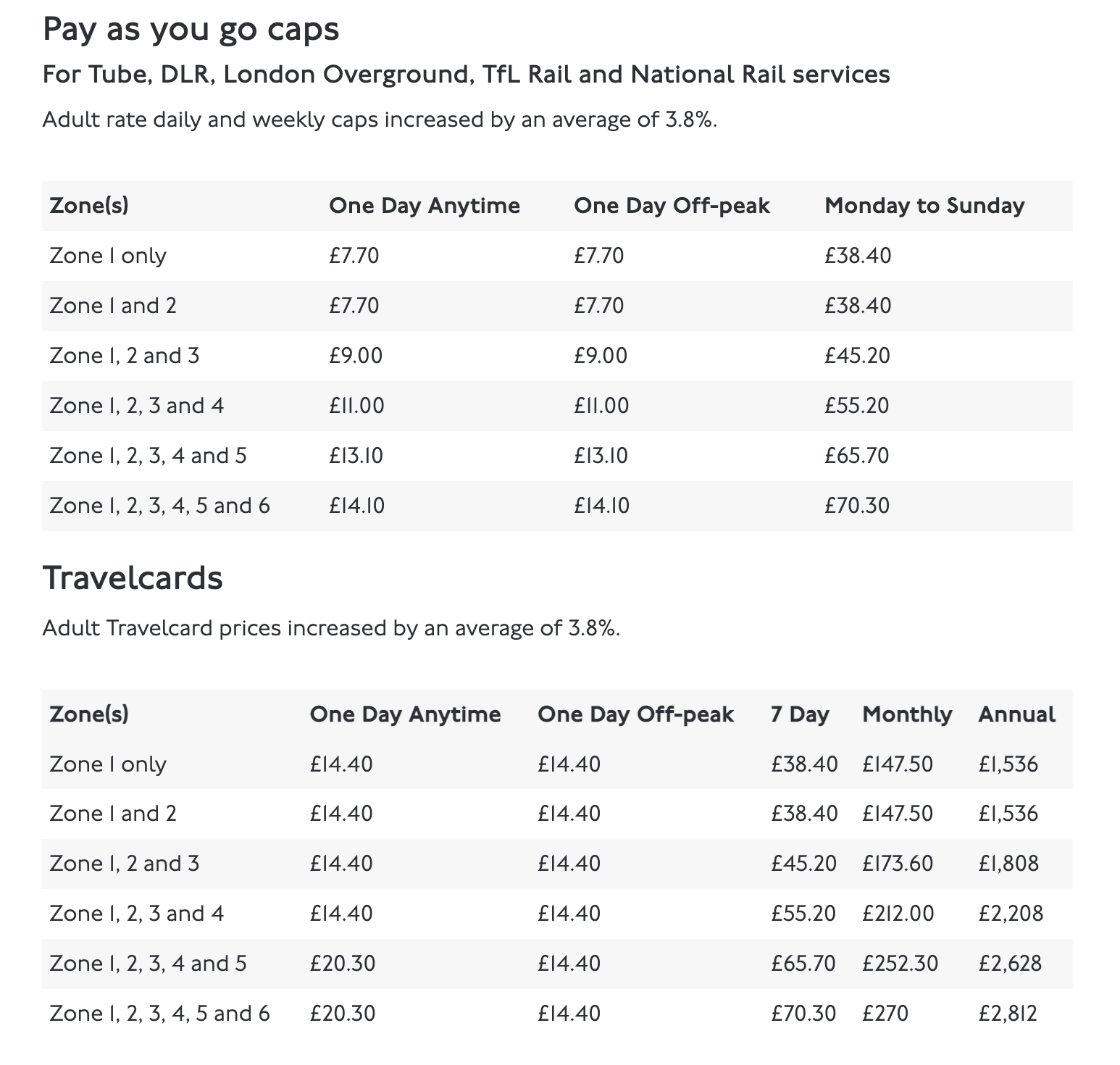 Tip: You can also use any Contactless bank card (VISA, MASTERCARD, American Express), but it is important to check that the bank does not charge you additional fees for use and remember that it does not have a "spending cap" like Oyster and TravelCard.
Questions and answers
Where can I buy tickets to travel on public transport in London?
Tickets and wireless card top-ups are purchased from machines in tube stations, which allow you to pay with coins, notes or credit cards. Vending machines are available in several languages.
How much do young children pay on London transport?
Children under 10: Free travels
Children between 11 to 15: You must buy an Oyster card and the benefits are 50% off adult-rate pay-as-you-go fares and daily caps on a bus, Tube, tram, DLR, London Overground, Elizabeth line, National Rail services, and London Cable Car.
For more information, please consult the official website page.
For tourists, it is good to know that the Oyster Card can be bought online before travelling to London. The card costs £5. then you can top it up as much as you want. This prepaid card has no expiry date (it does not expire).

---
If you notice any errors on this website or have any suggestions, please use our contact form, and we will try to solve the problem as soon as possible.
Thank you for visiting our London Tube fares page, we hope you found it useful.